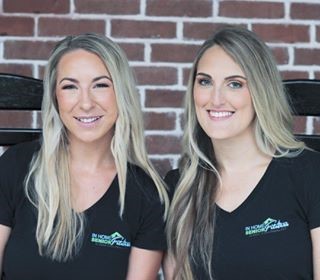 Our Philosophy
In Home Senior Fitness puts the well-being of senior citizens first. Our team of rehab professionals is dedicated to improving each individual's strength, balance, and self confidence, allowing you to live the life you deserve.
In Home Senior Fitness was created to fulfill our patients' wishes to continue a fitness routine after they were discharged from therapy. Upon witnessing the amount of re-hospitalization and re-occurring injuries after our patients quit their therapy fitness routines, we decided there had to be a better way for seniors to maintain their health.
Located in the Greater Tampa Bay, West Central, and Central Florida areas, our goal is to create a safe, positive experience for older adults to improve their physical function without the hassle of traveling to a facility, massive co-payments, and negative insurance qualifications that deter so many from the care they deserve.
Meet the Team
Ashley Becker Trinklein
Owner, Certified Personal Trainer, Senior Fitness Specialist, Certified Occupational Therapy Assistant Ashley has been a practicing Occupational Therapy Assistant since 2010 where she has focused on improving the overall health and independence of seniors in skilled nursing facilities, outpatient clinics, and in home health. As a Florida native from New Smyrna Beach, Ashley chose to continue with a Bachelors in Public Health from the University of South Florida. It was then that she fell in love with the city of Tampa. In her free time, Ashley enjoys traveling and being adventurous outside of her comfort zone.
Stacey Kensinger
Owner, Certified Personal Trainer, Senior Fitness Specialist, Licensed Physical Therapist Assistant Stacey has been a Physical Therapist Assistant since 2013 with her primary interest being geriatric health in clinical, hospital, skilled nursing, and home-health settings. Stacey served in the U.S. Military for nine years and during that time she worked on her education, graduating from Mount Aloysius College with her degree in physical therapy. Stacey's passions include health, nutrition, and all adventurous outdoor activities. Originally from Pennsylvania, Stacey now enjoys calling St. Petersburg, Florida "home".
Cassie Feuerstack
Certified Personal Trainer, Senior Fitness Specialist, Certified Occupational Therapy Assistant, Certified Dementia Practitioner, Functional Training Specialist Cassie joined our team in July 2018 and our clients absolutely love her! Cassie has been an Occupational Therapy Assistant since 2017 where her clinical experience has been working with geriatrics in skilled nursing facilities. Cassie studied Occupational Therapy at SUNY Orange in New York. She hopes to spread awareness on the importance of strength training for every age group. Cassie enjoys spending her free time working on her own personal goals in the gym and exploring her new home in St Petersburg.
Karen Nicholson
Certified Personal Trainer, Licensed Physical Therapist Assistant Karen brings to In Home Senior Fitness over 27 years in the fitness and health field. Having earned her Personal Fitness Trainer certification in 1992 from the Athletic and Fitness Association of America and her Physical Therapist Assistant degree in 1985, Karen is also able to back up her fitness instruction with real-life experiences. An avid down hill snow skier, half marathon runner and Certified Pilates Instructor, Karen provides not only instruction but the science behind it for her clients. Originally from California, Karen's family moved to the Tampa Bay area in 1971 so she considers herself a semi native and loves the active Florida lifestyle. Karen's clients most often describe her as fun, compassionate, and motivating!
Leslee Gillespie
Certified Personal Trainer, Registered Occupational Therapist
Leslee is an Occupational Therapist and Certified Personal Trainer with nearly a decade of OT experience primarily focused in home health. Being a military spouse, she has lived and practiced in many states, recently moving to Tampa. She has a deep passion for health, exercise, and serving the elderly; interests that all come together at In Home Senior Fitness.
She is excited to help clients reach their goals by better integrating fitness into their daily lives! Leslee enjoys exploring the area, biking with her husband and two children, and studying health and fitness.
Robert Joyner
Certified Personal Trainer, Certified Athletic Trainer, Licensed Physical Therapist Assistant Rob has been working as a Personal Trainer since 2003 and as a Physical Therapist Assistant/Athletic Trainer since 1996. He first found his love for fitness and training through his passion for soccer and from his dad who is a Physical Therapist. Rob started his career as an Athletic Trainer with the Tampa Bay Rays and Eckerd College in 1997. He then continued working with his dad in their outpatient physical therapy clinic where he specialized in outpatient orthopedics, sports medicine, golf fitness, geriatric care, and foot orthotics. Rob has worked in many different areas of the physical therapy trade from: outpatient, skilled nursing, long term care, home health, and acute care. He has lived in St. Petersburg since he was four years old and graduated from the University of Tampa. In his free time, Rob enjoys refereeing triathlons and soccer, scuba diving, fishing, traveling/cruising, and boating.
Robin Taylor
Certified Personal Trainer, Certified Occupational Therapy Assistant
Robin was born and raised in Florida earning a Business Associates degree at Indian River Community College. She lived in Connecticut working as a paralegal while raising her 2 children then studied Occupational Therapy at Manchester Community College in 2015. She gained her certification as a Personal Trainer in 2013 through National Academy of Sports Medicine.
Robin returned to Florida a few years ago working as an Occupational Therapy Assistant. She assists seniors in acute and long-term care and finds her creativity, humor and especially her personal trainer skills enhance therapy outcomes.
Recently married and living in central Florida, Robin enjoys time with her husband, children, or at the gym or yoga studio. She competed in the 2016 CrossFit games Masters Division ranking 153rd in the Southeast Region.
Despite a few injuries and her own therapy sessions as a patient for back surgery and knee surgery, Robin has recovered to participate in many 5k runs, a sprint triathlon and a Tough Mudder event. She believes in the quote, "Don't limit your challenges. Challenge your limits." Jerry Dunn
Don't Wait…
Your greatest investment is your health. Bring peace of mind to yourself and those around you with In Home Senior Fitness Personal Training. Regain the life you deserve. Get Started