"Stacey keeps me motivated and works me hard and diligently. She is absolutely wonderful & perfect for me. She's increasing my mobility & circulation in my legs for which is badly needed for me. She is increasing my mobility in my upper body so I may take my driver's license test. She is punctual, caring & has a wonderful personality for handling my needs."

Sincerely,

David Williams
The experiences are tailored to my needs and the appointments are scheduled for my schedule.

Dr. B
Just in time for summer! Dr. B is now able to walk to the pool (instead of driving) and has increased her strength, balance, and endurance with the help of IHSF!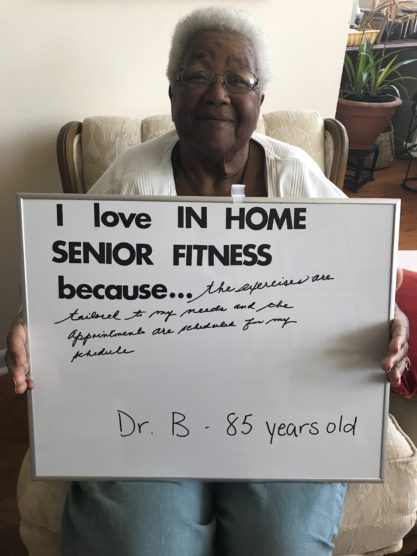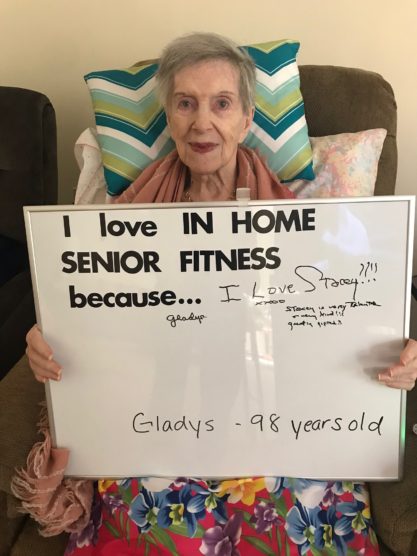 I love Stacey!!!! Stacey is very talented & very kind!!! greatly gifted!!

Gladys
When Gladys started with IHSF, she was unable to use her right-dominant hand or shoulder. Gladys is happy to now be doing anything she wants with her right hand, including using it to write on our review board!
After a few months of personal training with IHSF, Maura is able to hold a plank for 1.5 minutes- at the age of 64!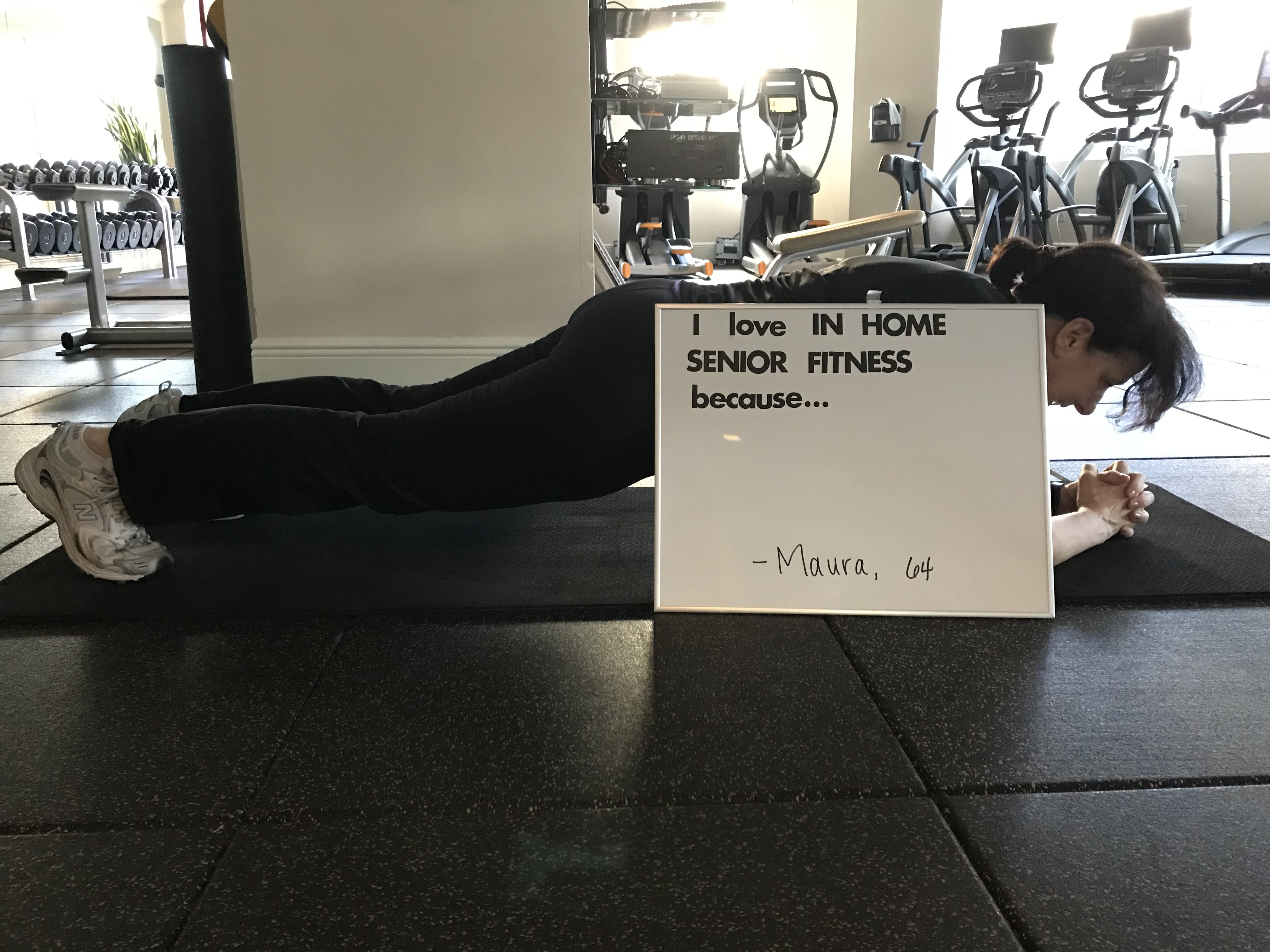 "Ashley has been amazing! My 86 year old mother was very reluctant to give In Home Senior Fitness a try--I had to beg her to try it JUST once. And once was all it took for Ashley to work her magic. Ashley's weekly visits are now one of the highlights of my mom's weeks, and she feels stronger and has better balance than she has had in years. Many seniors are intimidated by "exercise" but if they give In Home Senior Fitness a try they will love it!" -Kathy T.

"Last year I met Stacey at a senior center in Dunedin Florida. She had me do some balance exercises that I failed miserably. I then signed up with Stacy to have her come to my house and do exercises with me. I had a limited amount of time to spend in Florida but Stacy came every week for about 5 to 6 weeks if I remember correctly she was patient she gave me some great tips on balance and I worked practicing the exercises that she gave me and they truly did help with my balance. I would highly recommend Stacy and this company." -Gemma C.

"Ashley has been very good with my parents. We have seen an improvement in their stamina. Ashley is very careful with my parent's medical needs and is building her work out accordingly. I recommend Ashley highly." -Damarik H.

"Stacey worked with my father (who has dementia) over the course of several months. She was friendly and helped my father regain strength/mobility after several hospital stays. My father looked forward to her visits, and she provided an overall positive experience to him. I wouldn't hesitate to use her services again." -Ryan O.

"Ashley has been excellent motivating and making progress with my mom. Mom's rehab facility just gives up; but Ashley came in and has her standing. She's great!" -Beth K.

"In Home Senior Fitness provides a tremendous value for the quality of care and service they provide. Stacey's dedication to my success is unmatched- even by the most seasoned of professionals." -Matt S.

"Ashley has been very good with my patient. She's very knowledgeable with the different exercises, providing both OT and PT for stroke Patients. I highly recommend Senior Fitness and Ashley for the great service." -Janett M.

"Professional and personally attuned! My husband has Vas. Dementia/neuro. limits. Stacey has worked beautifully with him on every level. His strength, confidence has improved. He looks forward to her working with an (listening to) him! I recommend her business all the time!!"-Norma M.

"Ashley is kind and compassionate. She is a highly skilled trainer who knows and understands the unique needs of the elderly." -Mary T.

"My clients really respond to and work well with Stacey. For me communication is most important and she always lets me know in a timely manner how her session went with them. Also she takes the time and cares enough to let me know other things that she notices or finds out while with my clients. Stacey is not just an extra set of eyes and ears but a reliable source that updates me on my clients when I'm not there. Both my clients and myself have benefitted greatly from having her on their healthcare team." -Cindy H.

"Ashley, thank you so much for all of your efforts for my 94 yo father! I so appreciate your help with keeping him moving!" -Mary P.

"Thank you Stacy for helping my Mom. We tried several different places and she wasn't comfortable with them. Since she started working with you she is happy and always looking forward to her next session. Highly recommend!" -Kathleen M.
"I hired Stacey for mom... She is absolutely amazing!!!! She has actually gotten my mom to enjoy working out. She is friendly, well knowledgeable, and just overall great. I would definitely recommend Stacey to anyone!!" -Ginny R.

"Stacey is so wonderful!! She's the only one we could her to work with my mom. She's patient, kind and great with people who have dementia. I've seen a big difference in my mom. She even discovered her bp was too low and needed a medication changed" - Amanda R.

"I contacted Stacey after numerous attempts to get a company to come in and work with my mother who has Alzheime. I even tried the largest company in the area (baycare) and they couldn't even figure out if they had been out to see her or what was going on. I won't trust my mother's care to a company like that. Stacey returned my inquiry in the same day. She went out and assessed my mother who is also in assisted living. She started working with her that day. My mother had been in a bad fall which is why she needed therapy. She was not able to walk unassisted for months. Stacey had her up walking under her own power and is making improvements every week. If care about your loved ones. Give Stacey a call. Her rates are more than affordable and the results are unbelievable." -Jared C.

"I contacted In Home Senior Fitness to help improve my father's strength and independence. Ashley was very knowledgeable with providing a variety of exercises and functional tasks-both mental and physical-in his home so he didn't have to be concerned about driving to a facility. She also provided support for my mother to assist him when needed since I live out of state and can't make frequent trips. I believe Ashley's experience, wisdom, and aptitude is what led to the diagnosis of his Parkinson's Disease. Unfortunately, he was misdiagnosed three times by specialists. Only once she pointed out symptoms to discuss with his doctor was he able to get the prognosis he deserved. I highly recommend Ashley and trust her with my family." -Megan Z.

"I had a chance to work with Stacey in my home and I'm so glad I did! I had been suffering from vertigo for some time and my doctor had referred me to therapy. Stacy was able to do a release on my neck, as well as teach me special exercises to strengthen my neck and upper back muscles. I am happy to report that my vertigo is now almost non-existent. Stacy was friendly, very knowledgeable and a pleasure to work with!" -April P.

"Highly recommend. Great service with very skilled, caring and knowledgeable professionals." -Nicole S.

"Stacey has made such a positive impact on my daily life. Thank you, IHSF!" -Stephanie G.

"Extremely skilled staff and very caring! The best of the best!" -Mackenzie S.

"Better than I could have hoped for to work with my mother who has Alzheimer's. Patient, professional, caring, and knowledgeable. You won't find a better therapist anywhere. Looking forward to a long relationship to help my mother get her freedom and mobility back!" -Jared C.

"If you want to hire a personal fitness coach, Ashley is your girl. Not only is she punctual, professional & trained, she is kind, sweet & full of compassion. You cannot go wrong hiring this wonderful person!" - Sherri L.

"Stacey has done a wonderful job with my parents." -Mark K.